Million (MM) Token Makes 2x Moonshot Backed By Ex-Google, Ex-Facebook Software Engineer
The only crypto token created by Millionaire for Millionaires. Did anyone notice this mysterious crypto has just skyrocketed twice higher of it's value for the past 24 hours? Yes, it did happened even during red colored bear market according to coingecko tracking website.
Prominent financial oriented YouTube channel by name Tech Lead is behind MM token which only has one million total supply and it's price still keeps going up further from $12 to $24 within a day. Main purpose of MM creator is a store of value feature. Currently, uniswap v3 platform exchange allows this newly invented token to be swapped easily with your MetaMask or WalletConnect compatible wallets.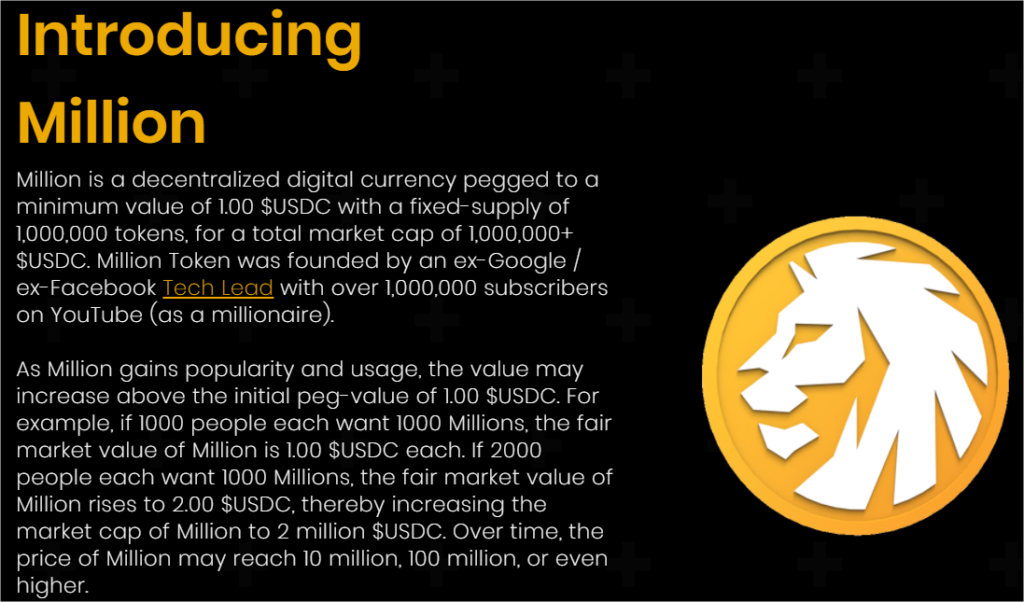 Interestingly, real name of Tech Lead author is Patrick Shyu, Asian-American software engineer who formerly worked at Google and Facebook. Moreover, his channel provides careful financial knowledge to current struggling underpaid and overworked millennials. Patrick Shyu is a proud millionaire, earned his fortune with a hard work in web development. The reason why Million Token exist is because of repeated exit scammers in cryptocurrency environment where people lost their money and thus, Patrick wants to deliver a legitimate practical store of wealth.
Importantly, investing on MM token is not a financial advice, please make your own deep research before jumping into unregulated wild crypto world.