RTX 3060 Mining Hashrate Performance Reviewed By Prominent Miner
Note: Important update made big headlines by NBMiner 39.0 which unlocks 70% of RTX 3060 LHR cards making up to 32.5 MH/s in Ethereum mining performance.
Nvidia recently launched a graphics card for the masses that any gamer could afford below $400 official price for end user. At last Ampere architecture powered RTX 3060 will empower your gaming needs despite bots and scalpers are getting them first in online retailers quickly. However, crypto miners also prefer to put their hands on RTX 3060 for their blockchain calculation needs to gain more profitability.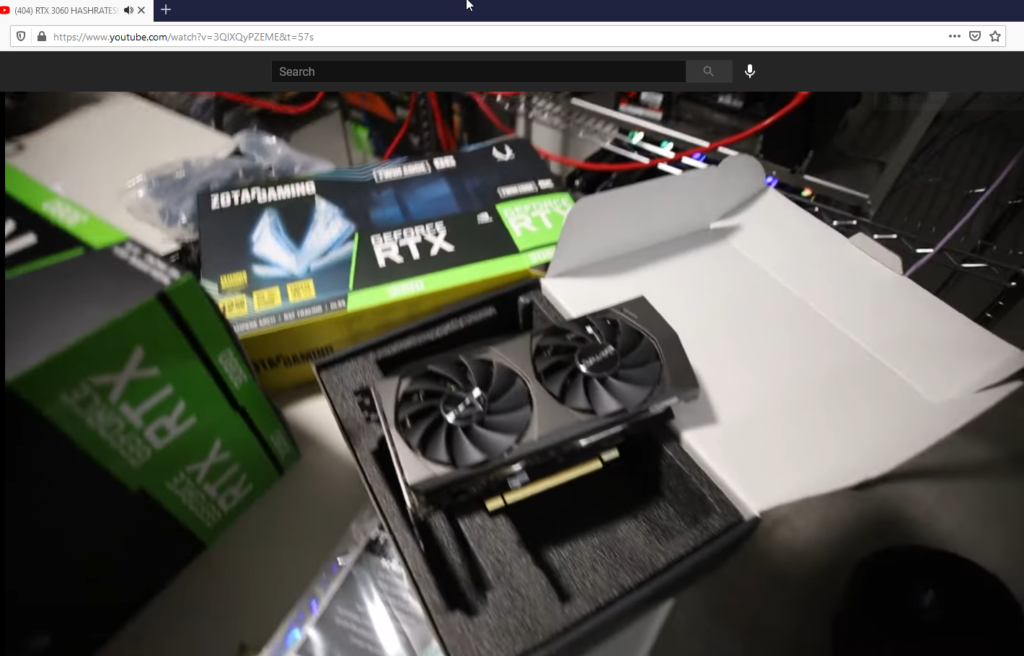 Curious miners were waiting for so long to know the legit hashrate performance of RTX 3060 in 2021 crypto mining boom despite Nvidia deliberately handicapping RTX 3060 through a driver manipulation. Alas, there it is, most prominent Canadian YouTuber, Red Panda Mining channel could determine accurate RTX 3060 performance in Ethereum, Conflux, Ravencoin and many more algorithm hashrate numbers. Specific model for this review is Zotac Twin Edge RTX 3060 OC 12GB GDDR6.
First of all, this channel has measured the physical size of RTX 3060 Zotac model to RTX 3060 Ti MSI Ventus XS one. Well, the MSI model's cooler seems bigger due to Ti version runs hotter than non-Ti. Let's jump into MSI Afterburner mining settings for RTX 3060. For memory clock, the frequency is set to +1200 MHz which is 8500 MHz after OC. Power limit settled at 60W and temperature limit sticks with 66 degrees Celsius. GPU Core clock was dropped down to 1657 MHz that's -200 MHz in Afterburner. Amazing 136W overall system power consumption was measured at the wall while mining Ethash algorithm.
Now, Ethereum mining hashrate is obviously low, which is settled at 26.05 MH/s due to choking hard from Nvidia's manipulated handshake setting between BIOS and latest GeForce driver. In comparison, the Pascal architecture's GTX 1060 6GB GDDR5 exactly could do the same hashrate as RTX 3060 is doing right now.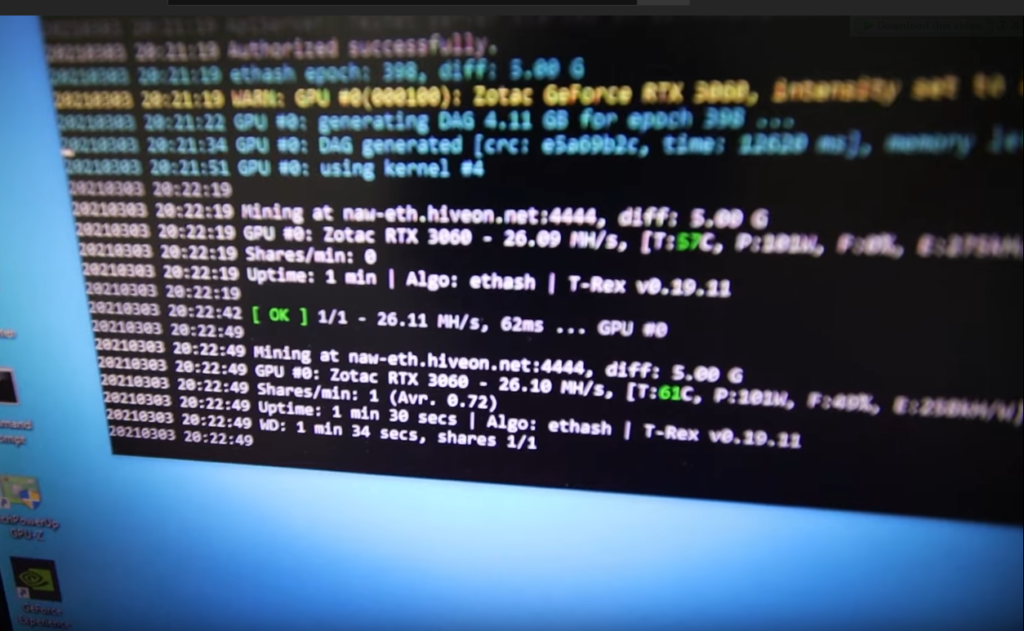 Second coin is Conflux using Octopus algorithm made by Chinese programmers. Well, here's the big catch where Nvidia must be shocked seeing the profitability of RTX 3060 mining Conflux. It's doing much better hashrates than Ethash algorithm even though driver is manipulated hard. In today's market situation, RTX 3060 does $3.90 a day mining Conflux.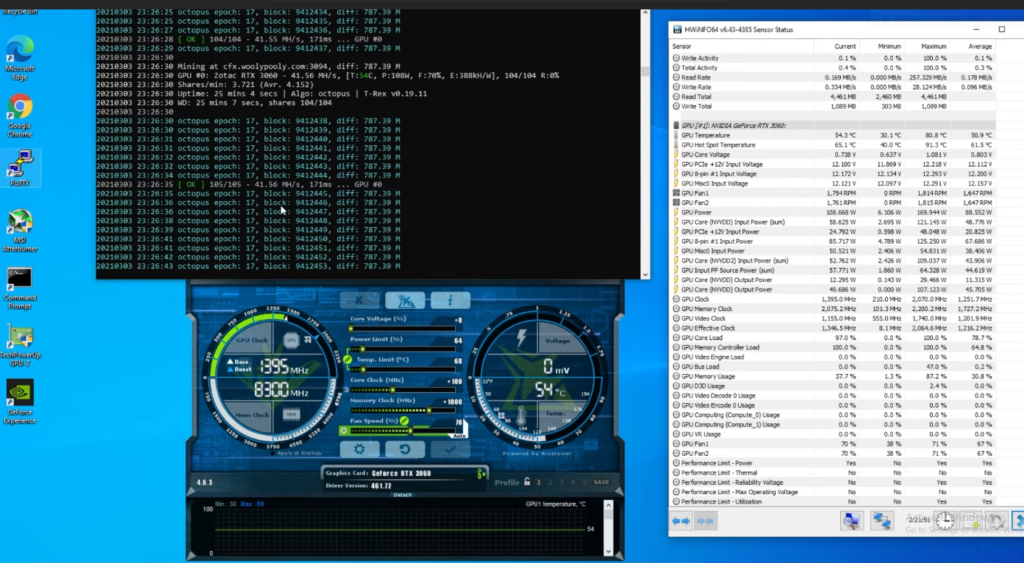 Red Panda Mining does a great job compiling all latest Nvidia and AMD graphic cards' cryptocurrency mining performance into one Excel sheet then distributes it for free directly from channel's description below. Red highlighted numbers indicate his well-tuned RTX 3060 MSI afterburner settings plus the accurate performance.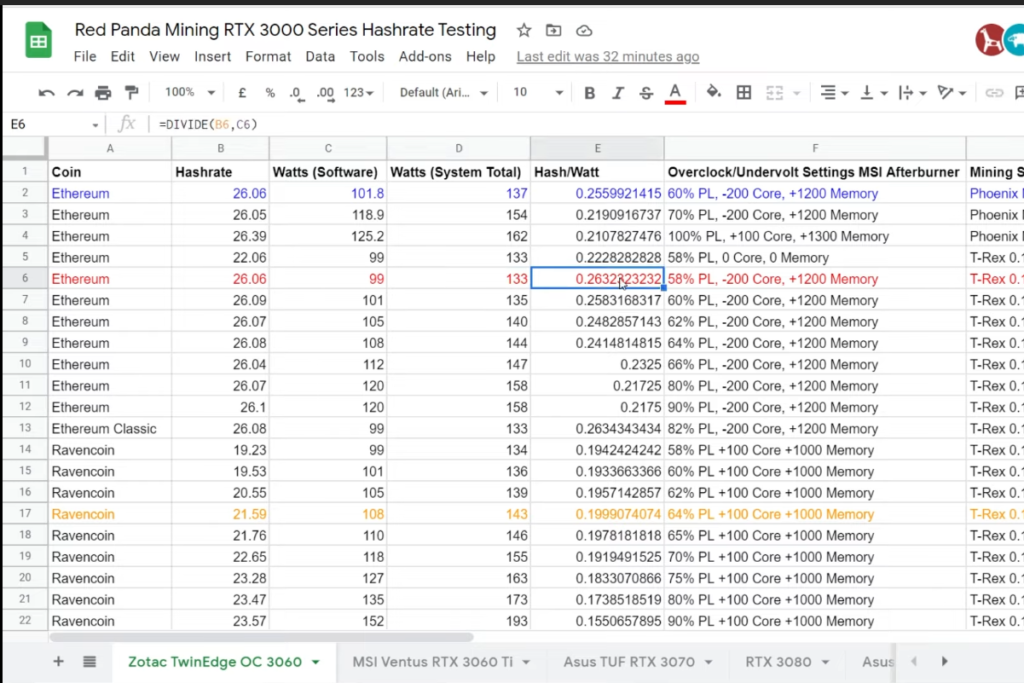 As anyone guessed before, Zotac Twin Edge has a smaller cooler and if you bought one of these GPUs you might want to change the thermal pads right away before putting into mining machine. Unfortunately, Ravencoin mining difficulty has skyrocketed last two weeks ago because of 4GB outdated cards are switching massively into KawPow algorithm after ASIC machines taking over the Ethash. Currently, RTX 3060 makes 21.59 MH/s out of Ravencoin mining which is still great for recovering your $400 below investment.
Very much latest Veil becomes also a profitable coin for RTX 3060 miners making them $3.66 richer per day. For RTX 3060, the Nicehash miner is ranked at third profitable place with Octopus algorithm. Thanks to Red Panda Mining for making the long-awaited RTX 3060 mining review and comprehensive Excel mining sheet for accurate assessment.
Source: Red Panda Mining Via YT