Ryzen 9 5950X Gaming FPS & Productivity Performance Benchmarks Revealed By Trusted Reviewers
Say hello to the fastest gaming and productivity processor in the world. This is a Ryzen 9 5950X CPU monster from AMD itself. Finally, Intel is put to aside by independent reviewers' test bench for the first time in 20  years since Athlon x64 processors back in the day when AMD dominated Intel's Pentium lineup.
Now, heavy gamers and 3D productive people with thick pockets can afford to buy 16 core 32 thread fastest mainstream desktop CPU for just under $800 USD depending on where you live right now. Steve Walton from Hardware Unboxed and Linus Sebastian from Linus Tech Tips channel just released an independent CPU reviewing hard work which have amazed Flip Figures team to share their Ryzen 9 5950X's  performance benchmark numbers with attentive readers and for the historic archive in a case YT channels' sudden discontinuity.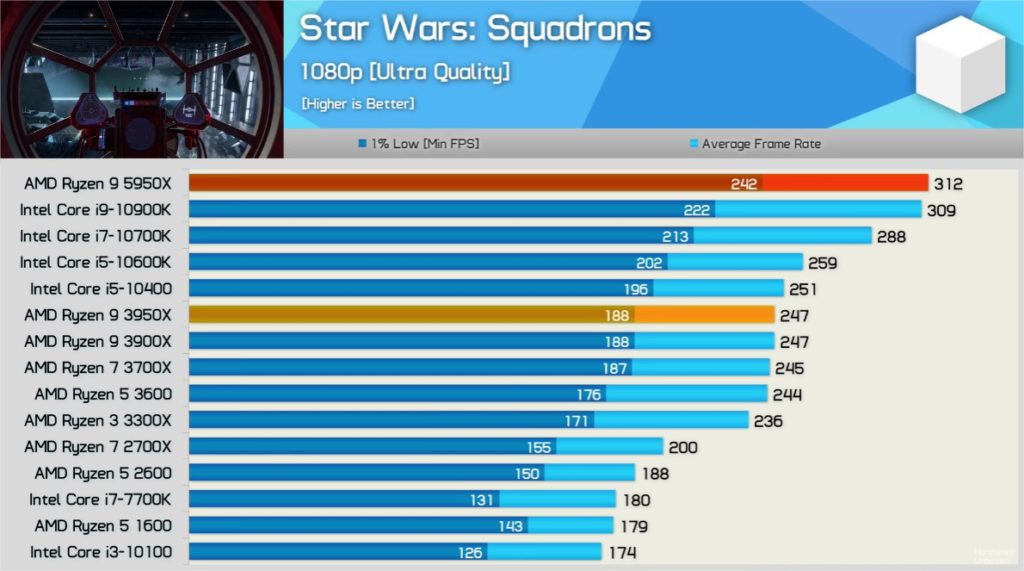 For the test bench system, both Steve and Linus team have used X570 motherboards and RTX 3090 GPU to eliminate any graphics bottlenecks. Amazingly, Hardware Unboxed channel's Asus ROG Crosshair VIII Dark Hero X570 motherboard left every audience members' jaws dropped for a while. 1080p resolution was chosen to measure the true raw performance of CPUs in order to draw a bigger picture in determining the gaming champion.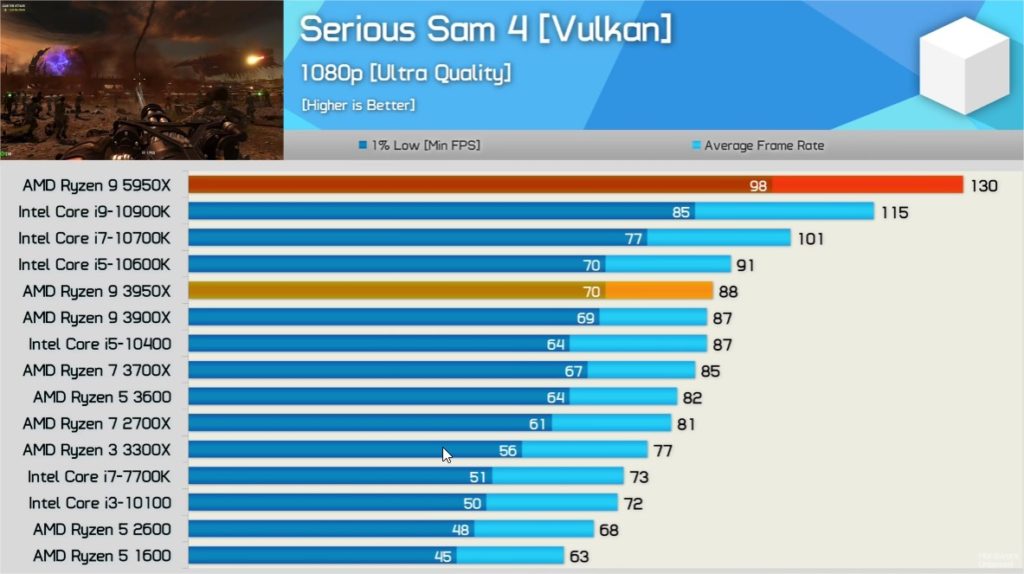 Latest triple A fantastic first person shooter game title Serious Sam 4 has awarded Ryzen 9 5950X with a highest number of 130 fps performance on average at 1080p Ultra Quality and 98 fps 1% minimum low fps score also beats i9-10900K by 10%.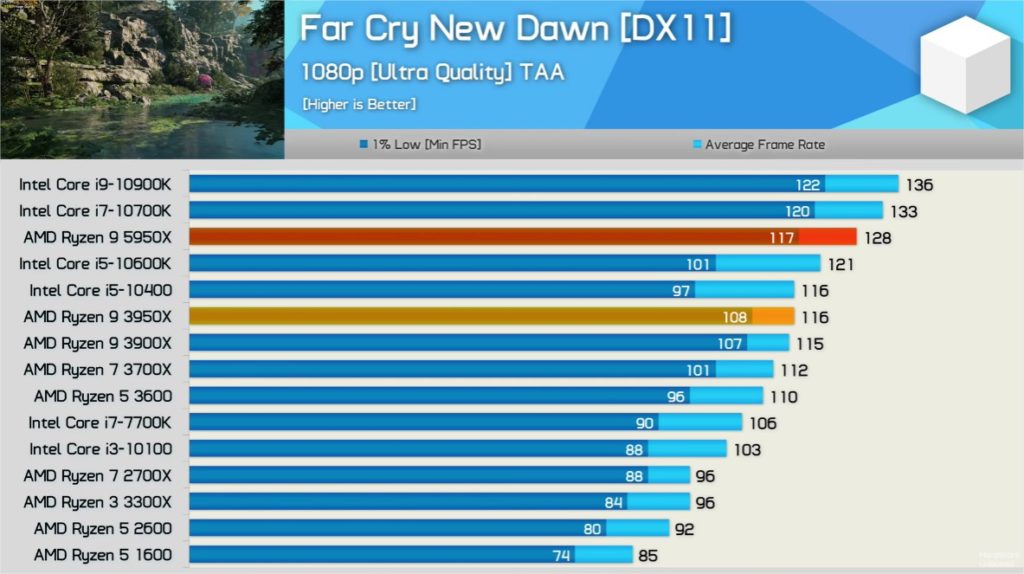 Far Cry New Dawn gives biggest lemon to AMD fans because Intel Core i9-10900K beats Ryzen 9 5950X by negligible 4% margin. Ryzen 9 5950X could grab 128 fps on average and 117 fps on minimums by establishing itself on the third place after Core i9 and i7 10th Gen Desktop CPUs.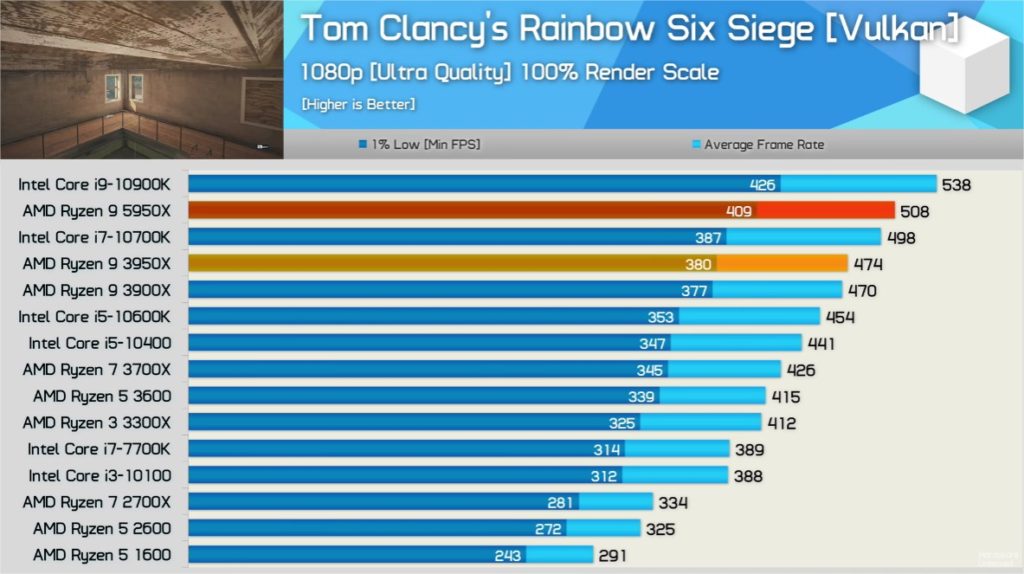 Huge single generational leap between Zen 3 and Zen 2 processors was detected in Tom Clancy's Rainbow Six Siege online popular title. Whopping nearly 10% faster performance is recorded by Ryzen 9 5950X over it's predecessor 3950X. But, Core i9-10900K still leads as number one fast CPU for Rainbow Six Siege after beating AMD's flagship by only 3%.
Watch Dogs: Legion is the best title of 2020 to the date and Ryzen 9 5950X almost tops the performance chart to become a fastest Watch Dog Legion CPU but falls short after coming with 2 fps slower than Core i9 10th Gen flagship. But hey, 2 fps is unnoticeable even for Neo in Matrix movie franchise.
Formula One's F1 2020 racing game can run very smooth on Ryzen 9 5950X system with 5 fps shy in front of only one Core i9-10900K beast but Ryzen 9 flagship beats every processor contenders on the line.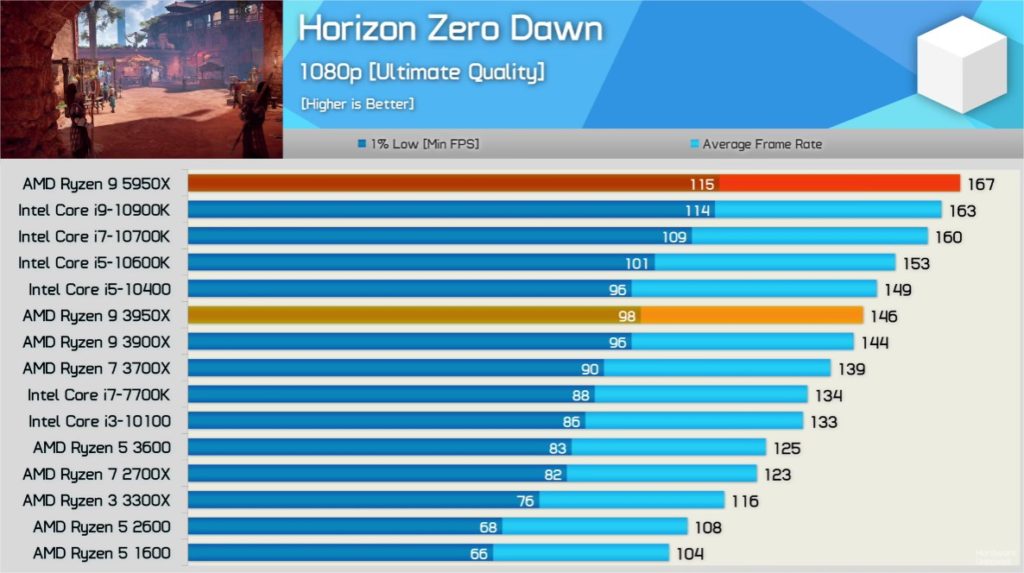 Online adventure third person game Horizon Zero Dawn is getting popular every counting day since the release and boy, Ryzen 9 5950X comes on top of performance fps numbers against all odds. At last, AMD could beat Intel in a most heaviest titles like Horizon Zero Dawn with 5 fps extra performance over Intel Core i9's 163 fps on average.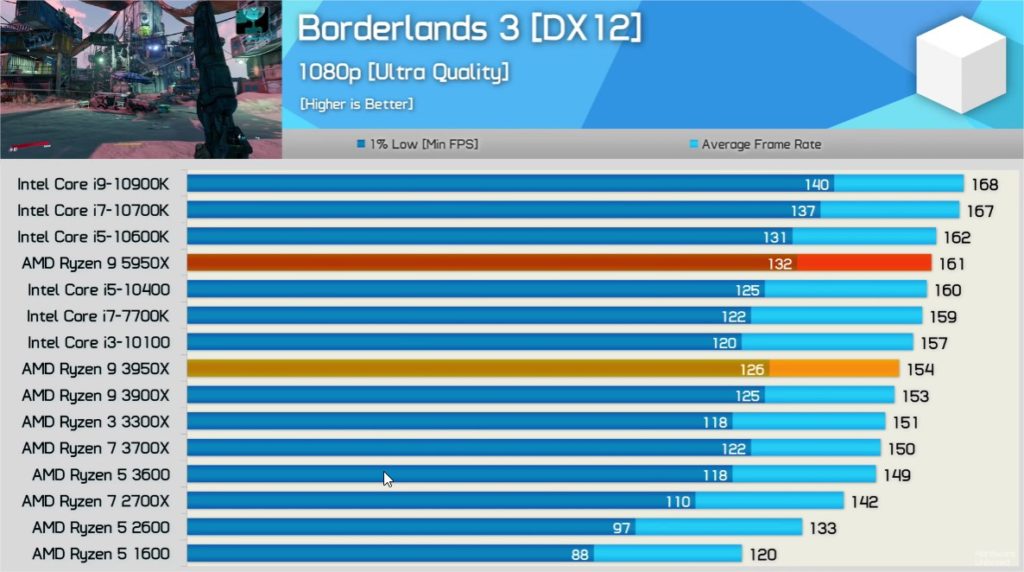 Borderlands 3 on DX12 using ultra quality gets 161 fps on average frame rate on Ryzen 9 5950X test bench which is only 4% slower than Intel's flagship. Anyway, getting over 144 fps experience on 144Hz monitor provides smooth gameplay regardless what CPU you are using.
Staggering 30% performance uplift also recorded in Death Stranding game title running on Ryzen 9 5950X when compared to 3950X Zen 2 CPU. AMD's research and investment has paid off. Obviously, well-improved Infinity Fabric plus unified cache system have contributed to this amazing success.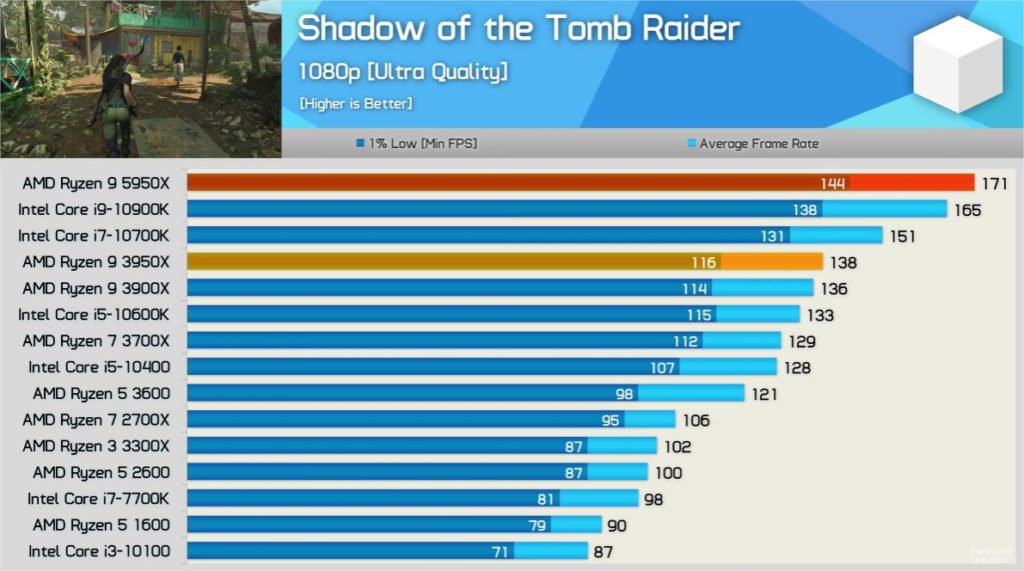 Huge 171 average fps milestone reached by AMD Ryzen 9 5950X within Shadow Of The Tomb Raider third person game eventually beating all CPUs including i9-10900K by 6 extra fps. It really translates into well-optimization progress in architecture by Zen 3 over Zen 2.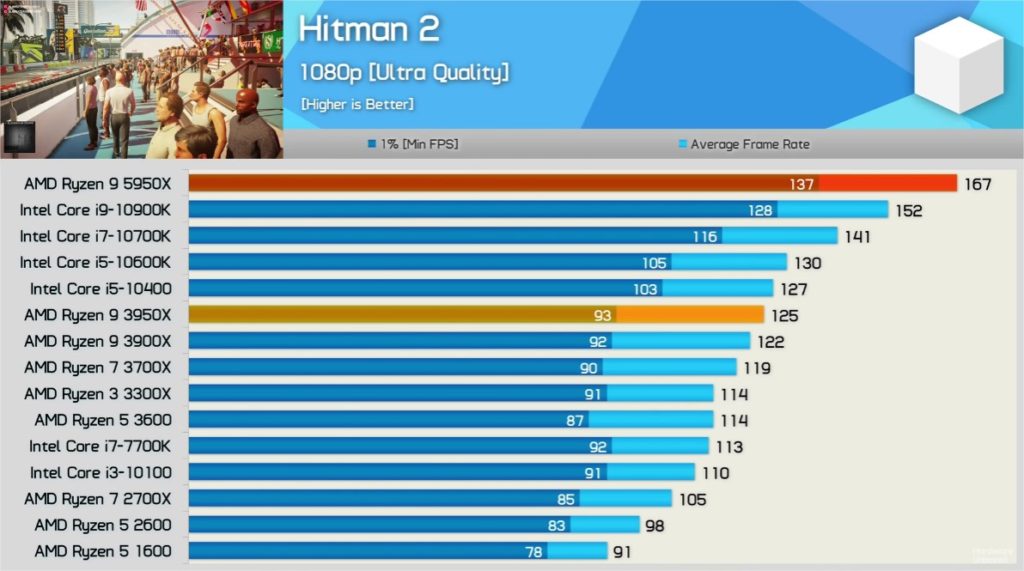 Wanted more single core improvement? There you go, Hitman 2 gameplay choses Ryzen 9 5950X as the fastest single core oriented processor in the world determined by game engine of course. Previously, only Intel 10th Gen desktop processors could bypass 144 fps on average performance.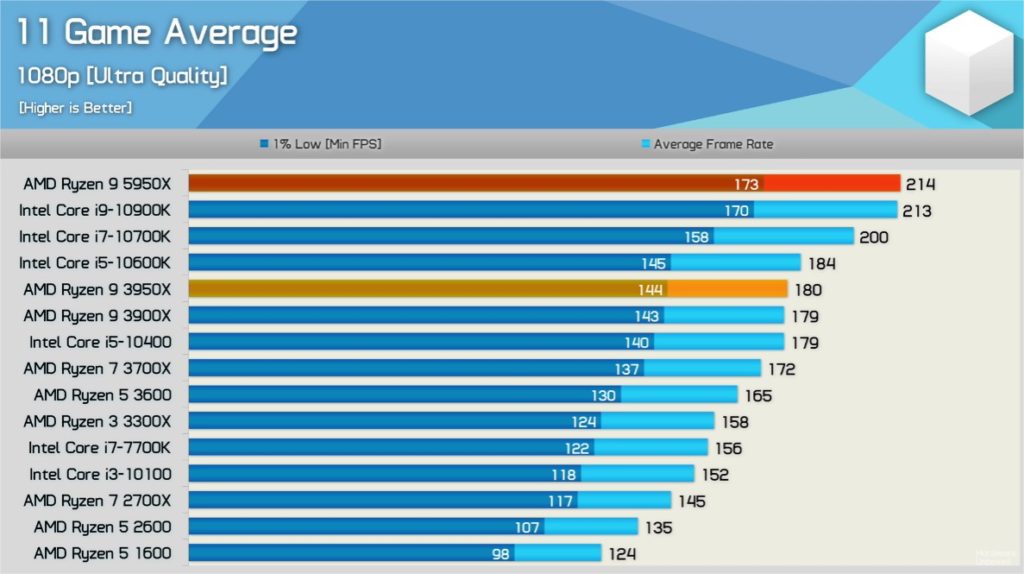 So, Steve Walton has been aggressive lately in terms of CPU and GPU benchmarks as compared to other reviewers online. Plus, Steve is unbiased too when it comes to identifying the CPU champion. After all, 11 games average performance scores are inclined towards AMD Ryzen 9 5950X CPU by thin 1-2% margin over Intel's Core i9 chip for now.
One more legendary game title GTA V or Grand Theft Auto V gives AMD an abrupt 141 fps on max settings at 1080p which is also successfully beats i9-10900K by 5% superior performance. GTA V has always been favorite by Intel fans to debate AMD's legitimacy in terms of single core benchmarks. Nevertheless, tables turned around yet again after nearly two decades of Intel domination.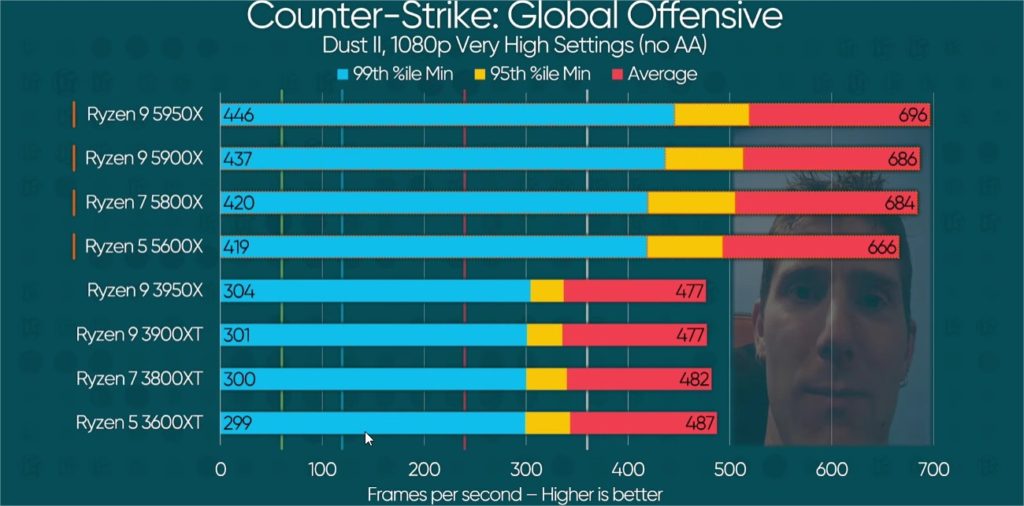 Eternal first person online shooter CS:GO or Counter Strike: Global Offensive can be played silky smooth on fastest Ryzen 9 flagship CPU and even Core i9 10th Gen cannot take this crown. Mind-boggling 696 fps average performance explored by Linus Tech Tips team using Ryzen 9 5950X 16 Core monster CPU from AMD.
Cinebench R20 has become a nightmare for Intel after AMD's Zen 2 architecture launch day. Intel marketing team avoids Cinebench R20 single core and multi core benchmarks like plague during their official CPU launch events. Therefore, today Ryzen 9 5950X's Cinebench R20 multi core result pushes Intel's legs felt shivering for long time.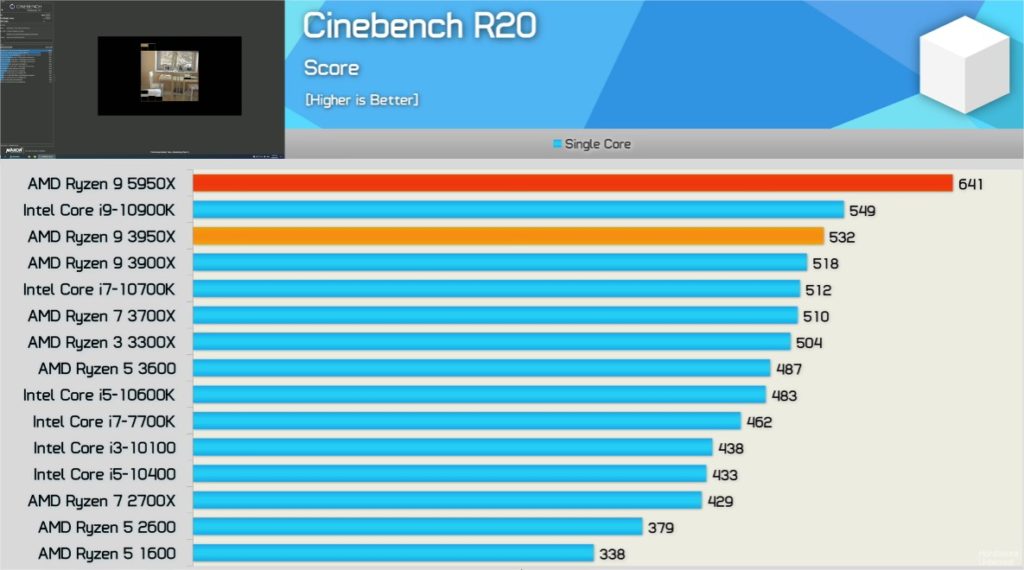 Jaw-dropping 10157 points were recorded by Steve from Hardware Unboxed after launching benchmark start button using Ryzen 9 5950X processor. It is the first processor to pass 10 000 mark in Cinebench R20 historical result. Yet, record-breaking 641 passing mark also achieve by Ryzen 9 5950X in single core benchmark test of Cinebench R20.
Open Source software Blender render time awards Ryzen 9 5950X as a Rendering King after it gets 474 seconds only to render BMW car render test. Additionally. Ryzen 9 3950X is just 7% slower than latest AMD's flagship. Seriously, no need to get HEDT processor anymore for budget oriented users.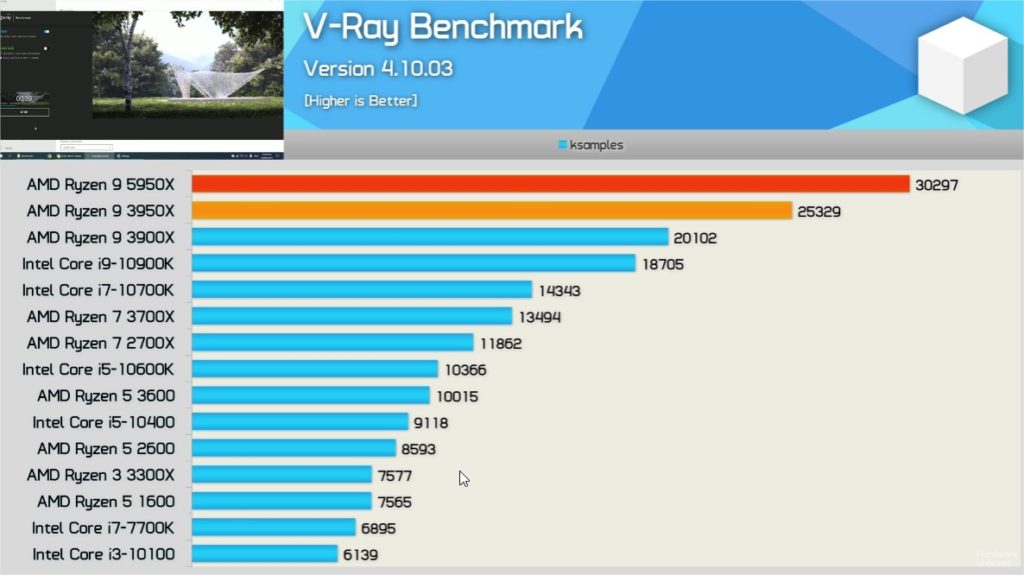 V-Ray by Chaos Group wonderful masters has contributed to architectures' dreams more shades and quality Rays. Therefore, getting Ryzen 9 5950X is the best choice architecture and interior designer students to render the ksamples faster compared to Intel Core 10th Gen Desktop processors.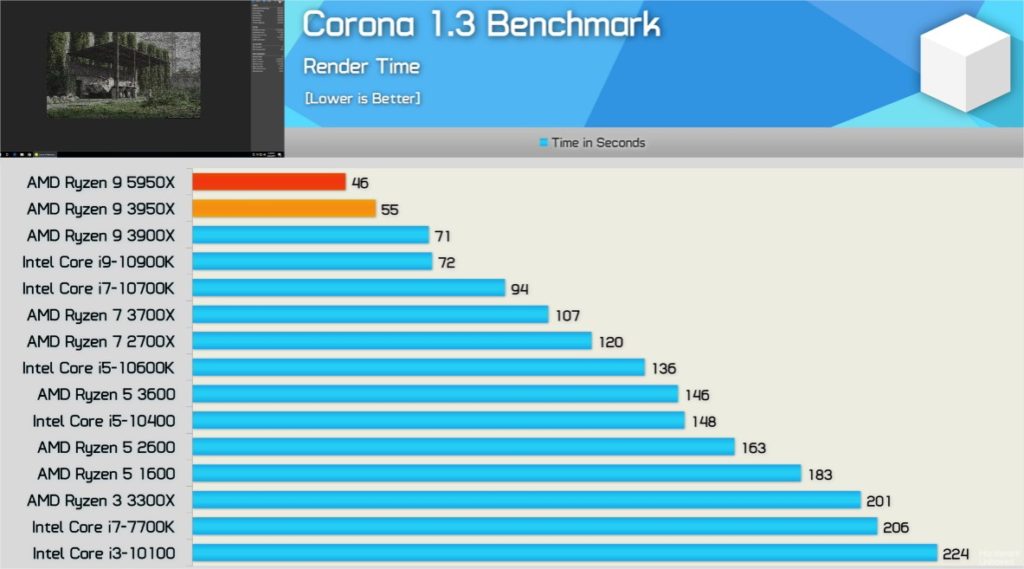 Another popular Ray renderer Corona 1.3 bestows the fastest processor crown to Ryzen 9 5950X since it is the only chip to render complex drawing image for 46 seconds. Eventually, Autodesk 3Ds Max and Maya learning people would love to try Ryzen 9 5950X beast on their budget workstation machines.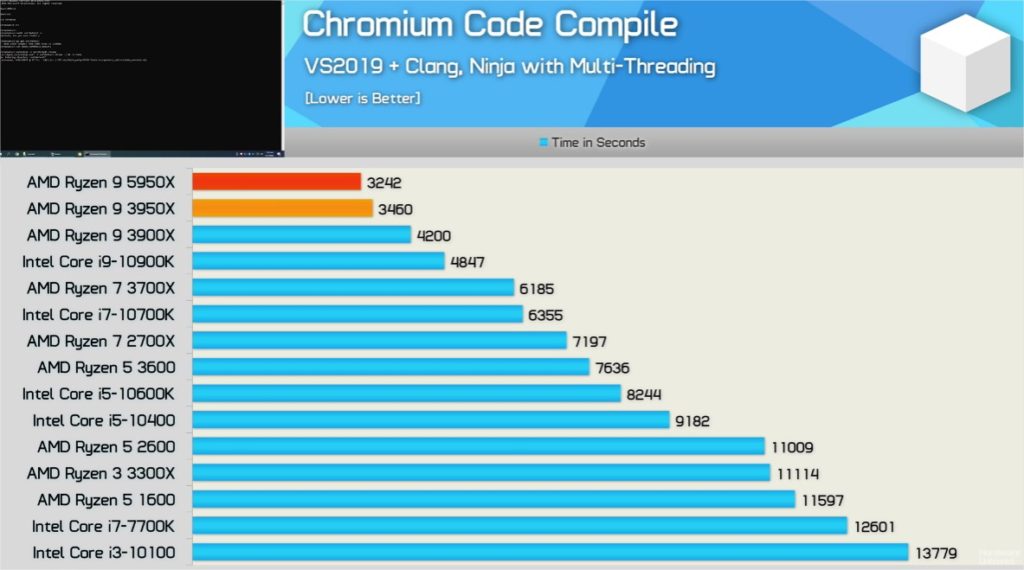 Chromium Code Compiling is the best choice for Web Developer and advanced code debuggers. Of course, Ryzen 9 5950X just shreds every code by it's 16 cores and 32 threads. Mighty Ryzen 9 just finished as the first to compile VS2019 + Clang using Ninja with Multi-Threading method.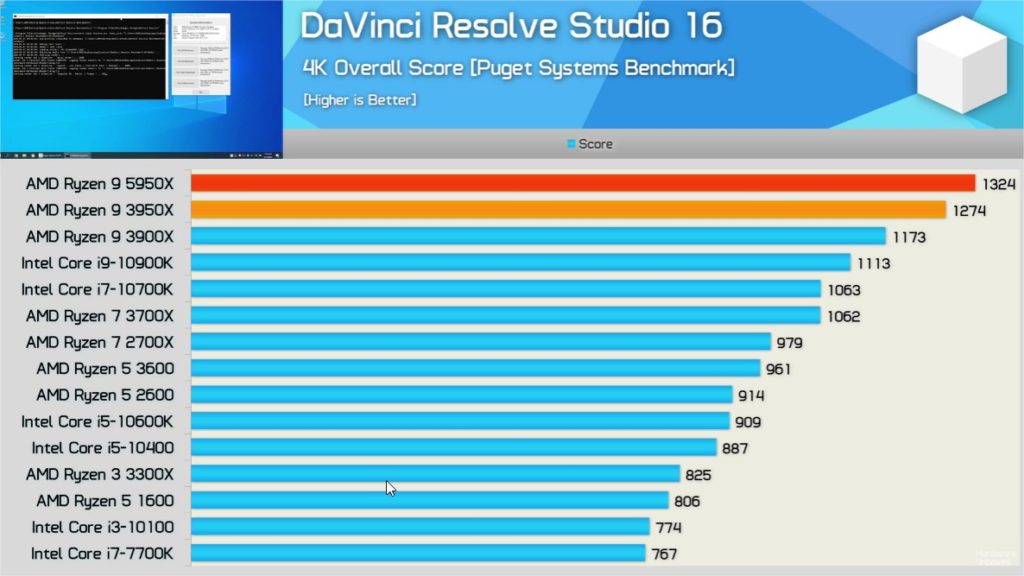 Puget Systems accurate benchmarking tool on DaVinci Resolve Studio 16 determines Ryzen 9 5950X as the fastest video editing and rendering CPU to date after providing 1324 points at 4K resolution.
Adobe Premiere Pro has been very bias towards Intel before up until Ryzen 9 3950X has destroyed Intel's dreams even single core raw powers couldn't save Intel from Zen 2 architecture. This time around, Puget Systems unbiased benchmark instrument has chosen Ryzen 9 5950X as again fastest CPU for Premiere Pro 2020 video editing software.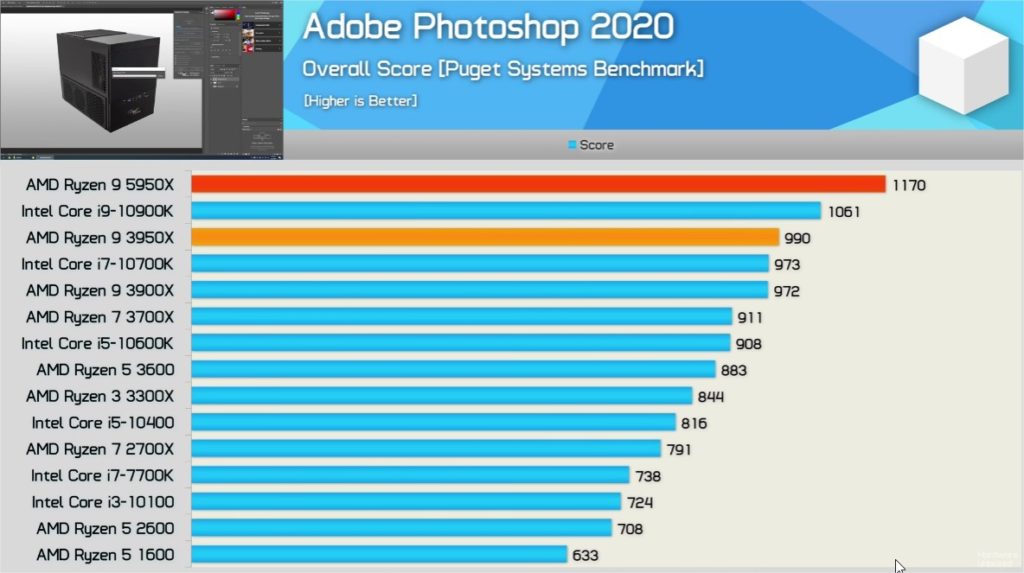 Oh! Thanks goodness. Adobe Photoshop now runs faster on AMD CPU compared to Intel one. Puget Systems benchmark tool selects Ryzen 9 5950X as the fastest champion on overall user score by a whopping 10% better margin over Intel's i9-10900K.
4K resolution enhanced Adobe After Effects 2020 benchmark by Puget Systems now favors AMD over Intel by stellar 20% faster performance. It translates into Zen 3 multi core efficiency in utilization by AMD after they fixed cache system structure after it was left crippled by Zen 2 last year.
Ryzen 9 5950X's whole system draws power from the wall socket a surprising 226 Watts. As a result, Ryzen 9 5950X becomes the most efficient 16 Core processor in the world by consuming 30% less power compared to i9-10900K system.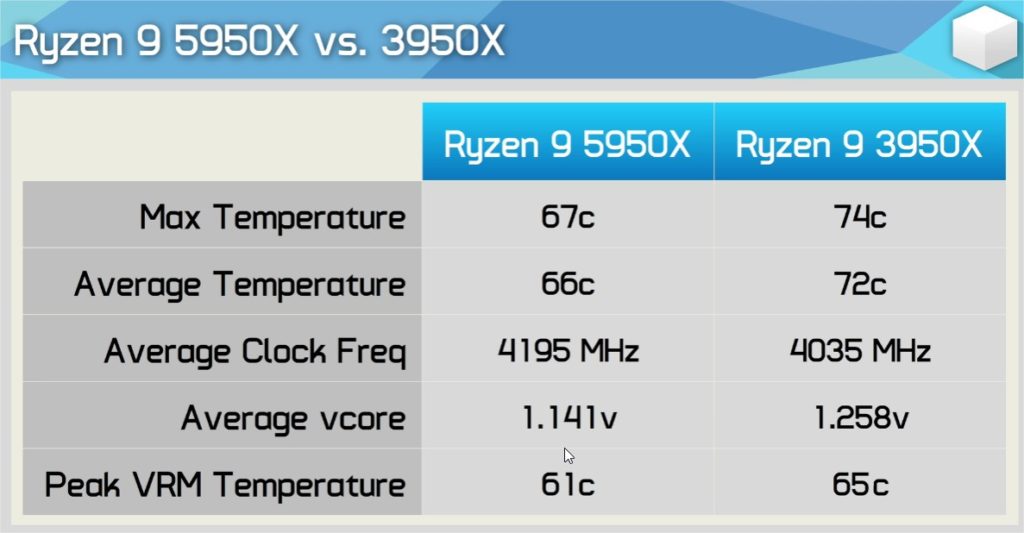 Overall Ryzen 9 5950X CPU's 67c temperature performance also made sensational amusement towards thermal concerned enthusiasts after realizing Ryzen 9 3950X runs 74 degrees at Celsius in 21-25c room condition.
Thanks for joyful reading about Ryzen 9 5950X history-marking processor by AMD. More content coming soon for news section.
Credits go to Hardware Unboxed & Linus Tech Tips via YT