RTX 3090 Gaming FPS Benchmarks From Independent Reviewer Revealed
Thankfully, today you witness the RTX 3090 GPU's Pure Gaming Benchmarks with clear frame rate results at 4k, 1440p and 1080p resolution. Great work has been done in Hardware Unboxed team, especially legendary Steve Walton went into thorough review on RTX 3090 performance. Of course, RTX 3090 card is a prosumers' GPU in definitive statement. However, content creators are also gamers and 8K oriented Titan class RTX 3090 can deliver top notch performance in another level compared to other cards. Let's jump into gaming fps benchmarks of RTX 3090 immediately.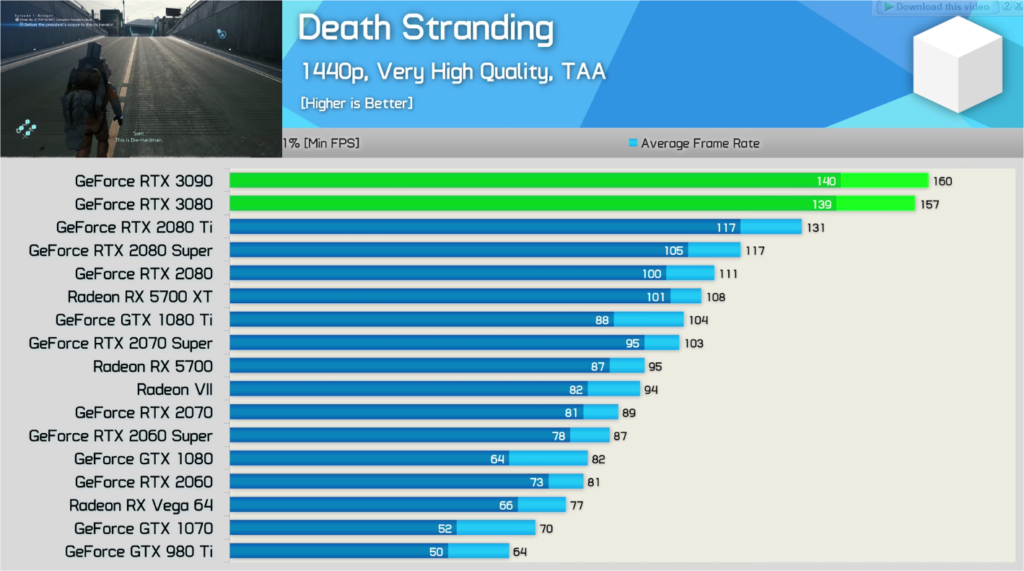 Death Stranding game at 1440p looks very detailed because it's enhanced by fast moving RTX 3090 chip which produces 160 fps average frame rate and 1% low minimum fps is 140. Successfully dominating own younger brother RTX 3080 by just 3 fps on average. Pretty underwhelming performance.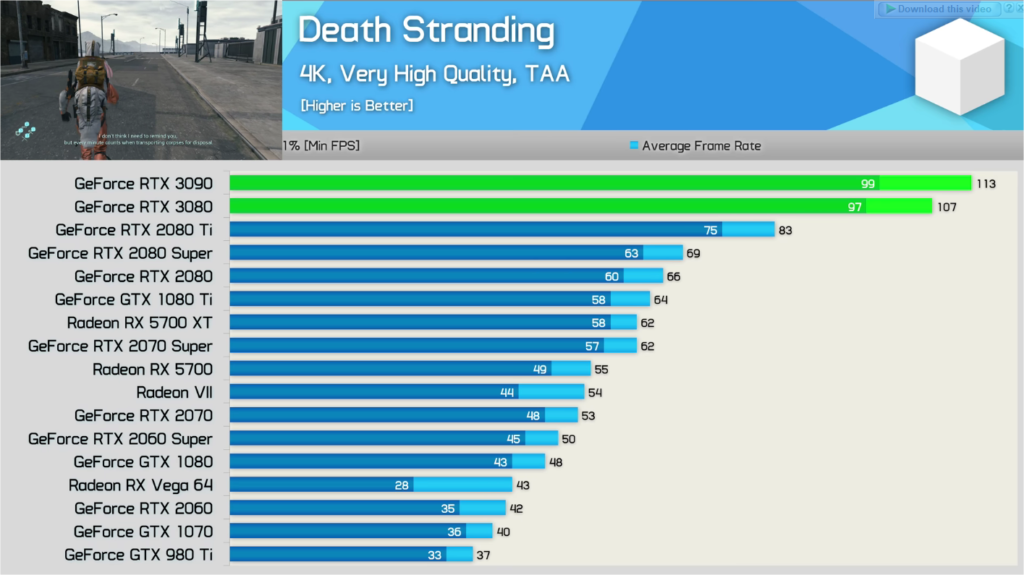 At 4K maxed out setting the RTX 3090 GPU jumps higher than RTX 3080 in Death Stranding game by reaching 113 fps. Now you may see the clear difference between prosumer and gaming card. Great uplift over RTX 2080 Ti is also noted with a whopping 70% faster performance at 4K gaming.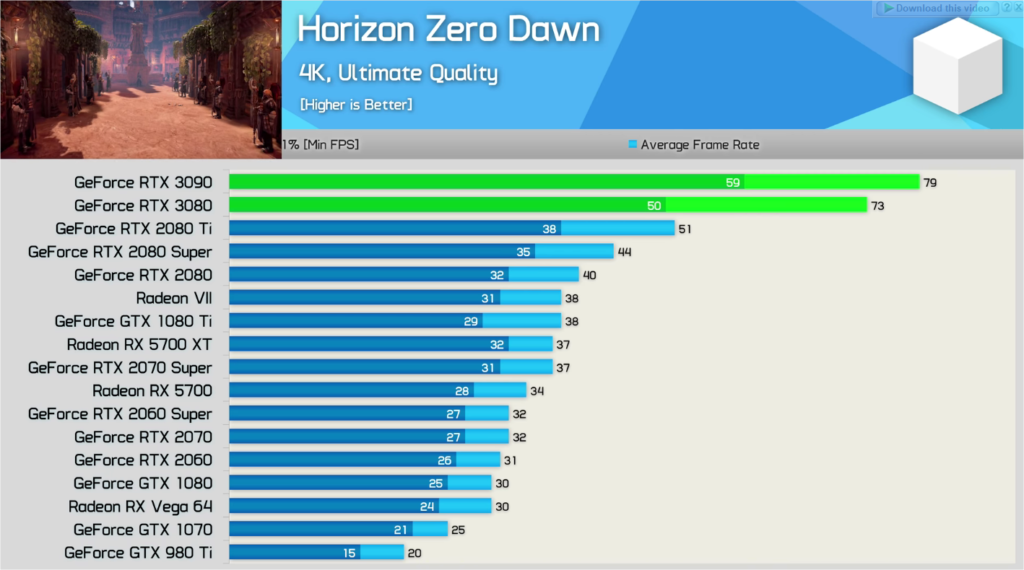 Horizon Zero Down at 4K resolution plays well on RTX 3090 marvelous GPU by establishing at 79 solid fps performance and only outpacing it's sibling RTX 3080 by 10%. Surely, Horizon Zero Down is a very heavy title in 2020. 4K gaming is becoming mainstream now after monitor manufacturers decided to cut prices drastically last two years.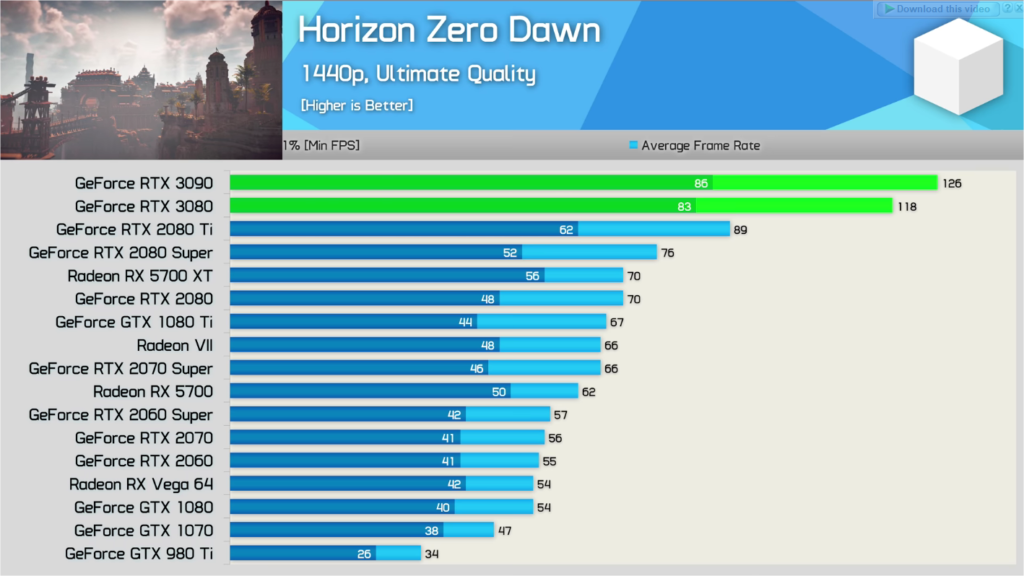 At 1440p Ultimate Quality, Horizon Zero Down records 126 fps on average using RTX 3090 GPU. Quiet good results for RTX 3090 despite it's being prosumer card for video editors and scientists who focus on Titan class performance. Minimum 1% fps performance is registered at 86 fps mark produced by RTX 3090.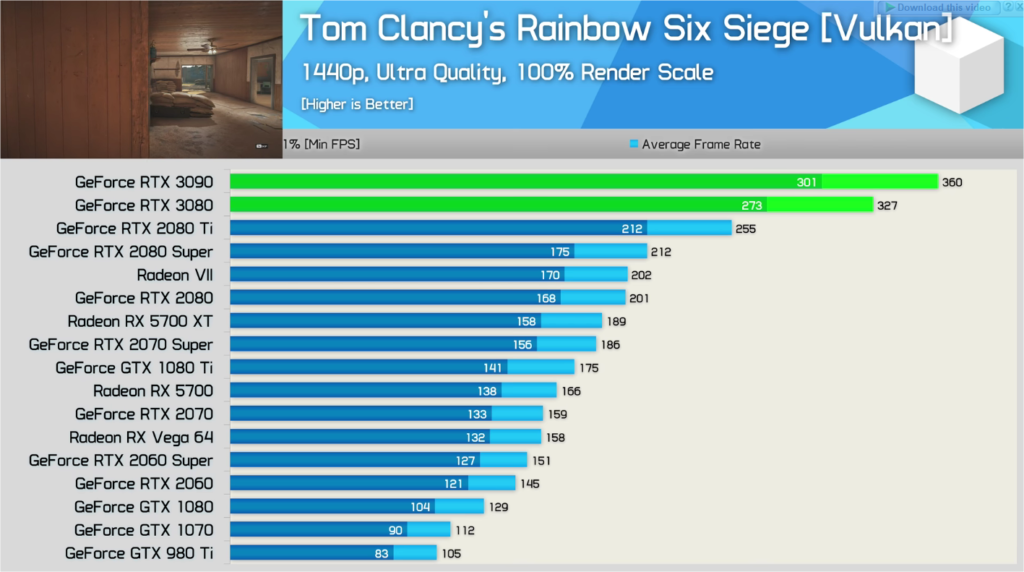 That's a very sweet 360 fps performance achievement on Tom Clancy's Rainbow Six Siege online shooting title at 1440p Ultra Quality settings with 100% render scale. Time to buy 360Hz refresh rate monitors to pair with RTX 3090 at 1440p resolution on next year's monitor launch.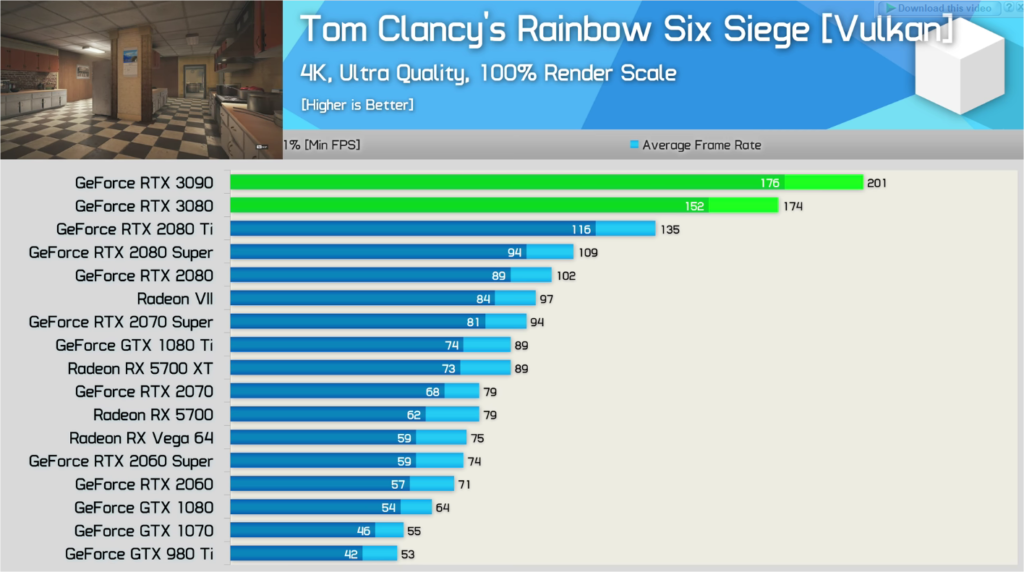 Gigantic RTX 3090 card from Nvidia never fails to impress true 4K gamers by showing how it's done in Rainbow Six Siege game. Amazingly, 201 whopping record fps performance was recorded by Steve from Hardware Unboxed by using RTX 3090 BFPG Graphics Card from CEO Jensen Huang.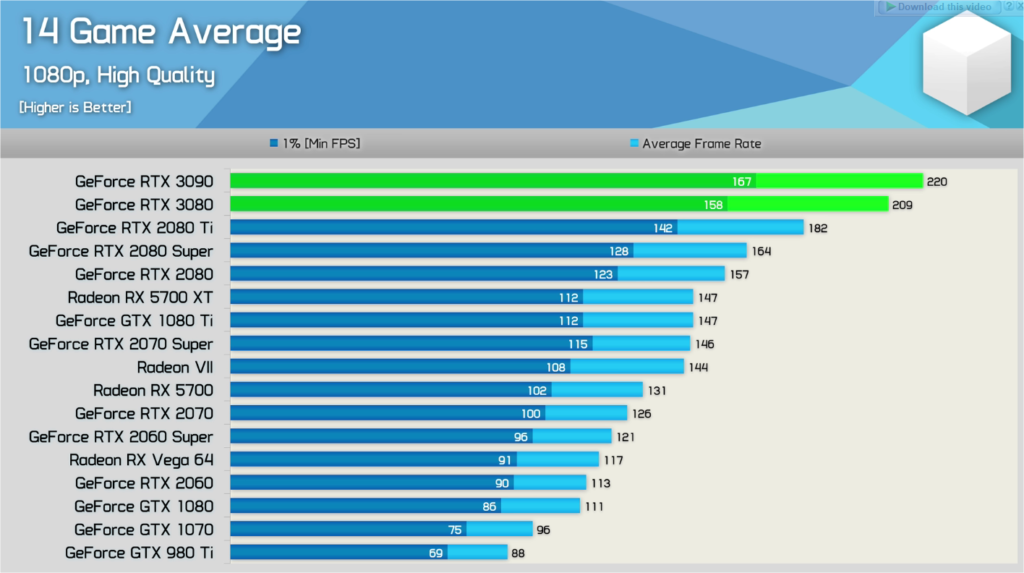 Steve Walton was kind of disappointed with boring results in each game produced by RTX 3090 and he just went on to show in compressed 14 game Average benchmark bar charts starting from 1080p resolution. At the end of the day, you can see only minimal difference between RTX 3090 vs RTX 3080 performance especially in FHD monitor due to RTX 3090 being a Titan class prosumer GPU oriented for content creation. So in 14 game Average results, only 4-5% difference is determined between RTX 3090 and 3080 cards respectively.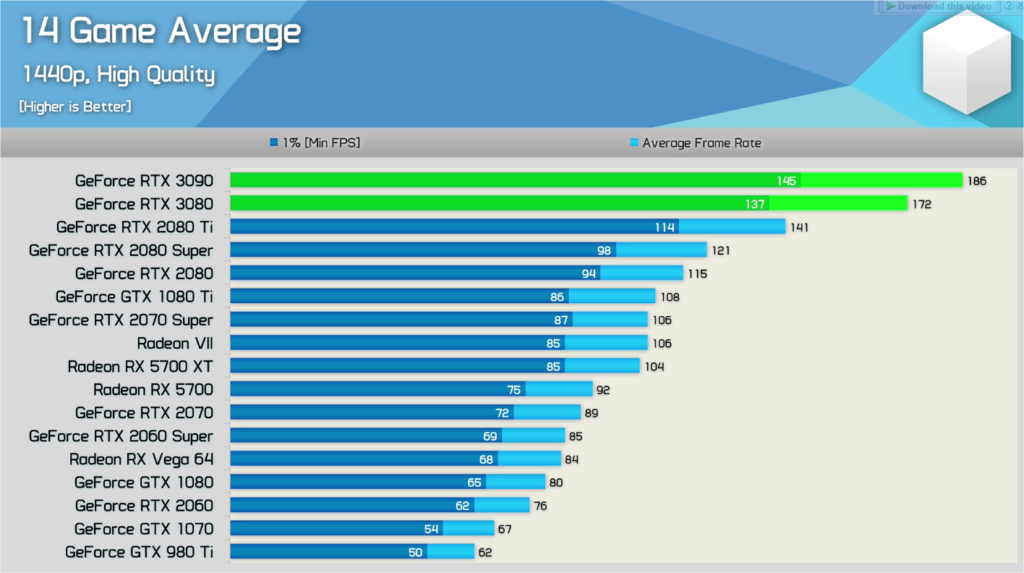 Somehow, it gets interesting for 1440p gamers who decide to purchase RTX 3090 GPU for this Christmas time. Average 10% superior performance is expected from RTX 3090 over RTX 3080 in most of the titles using 1440p QHD monitors. Not great but not terrible.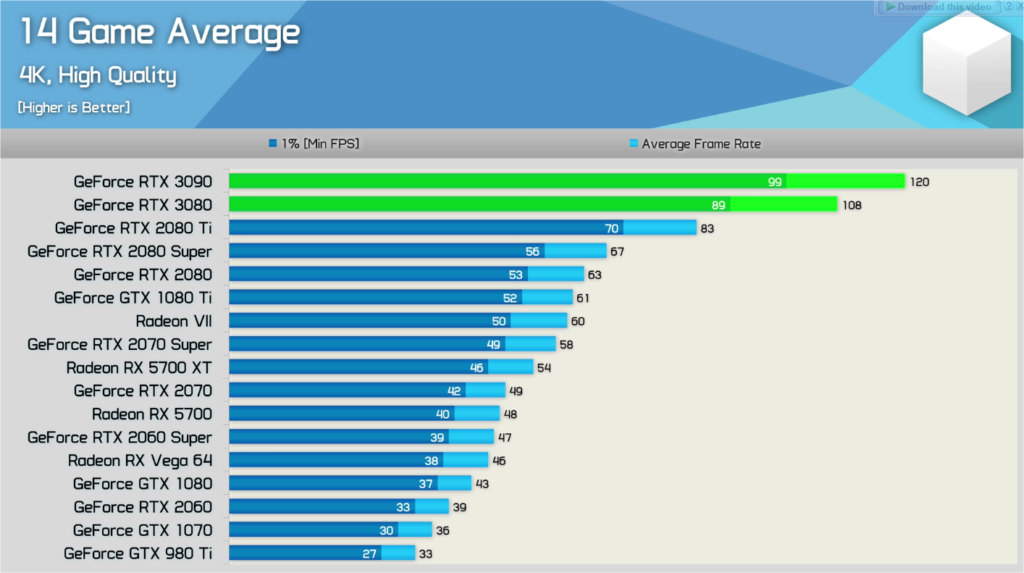 4K High Quality setting environment gives upper hand situation for RTX 3090 over it's predecessors and own rival sibling RTX 3080. 10% minimal or negligible difference identified between RTX 3090 vs 3080 cards. It clearly translates into best case scenario for general consumer to think before purchasing the bigger cards.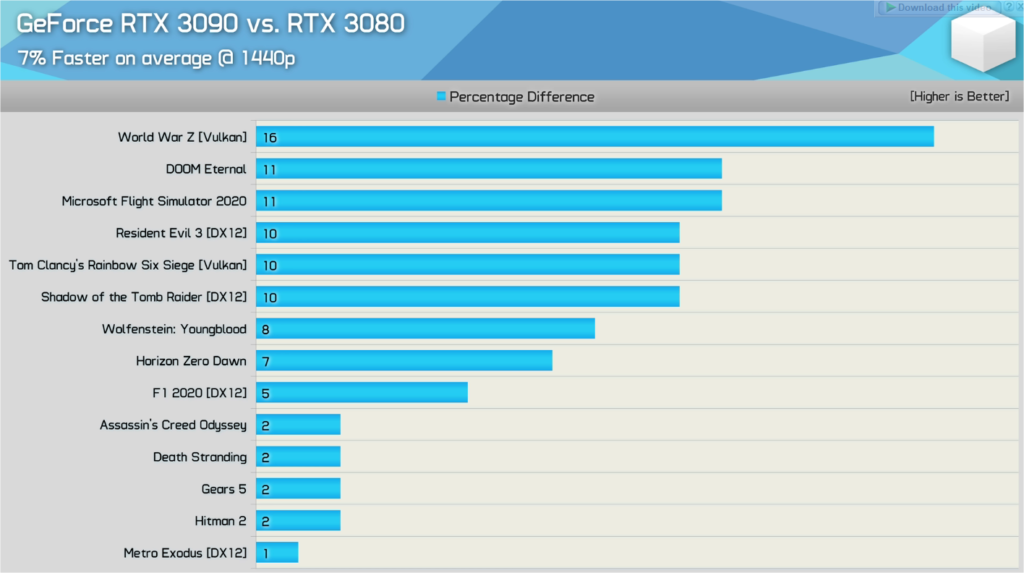 Vulkan API based titles are giving enormous advantage for RTX 3000 series GPUs due to Nvidia's efforts to optimize for lower head gaming performance. World War Z and Doom Eternal are the best games for RTX 3090 to defeat 3080 by 16% and 11% respectively. Anyway, on average 1440p results your eyes only see 7% faster performance from RTX 3090 compared to 3080 card.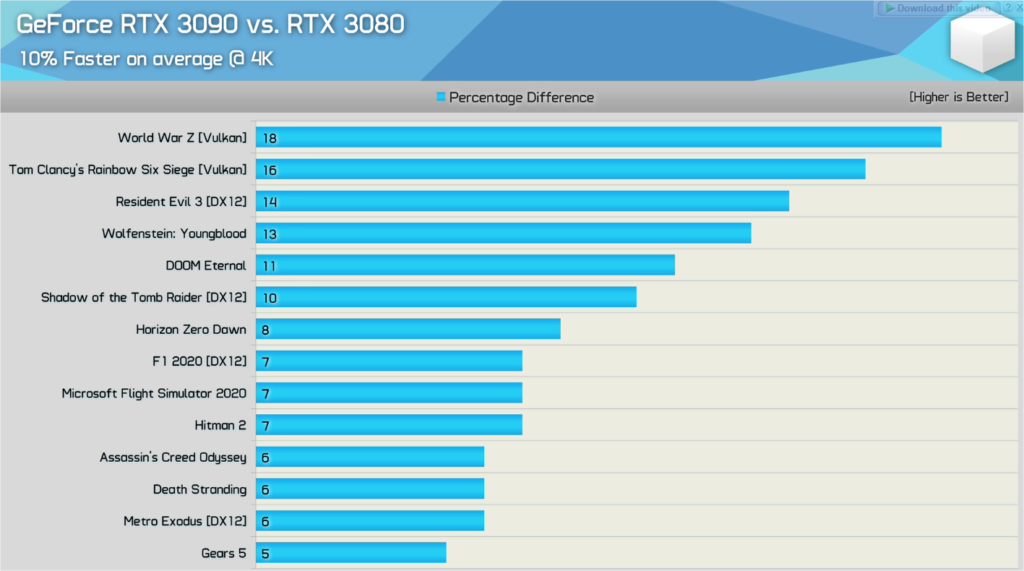 Well, 4K results on average 14 game benchmark results firmly illustrated that Vulkan and DX12 APIs are helping to push 10% squeezing performance from RTX 3090's core engine in terms of frame rate metrics. If you are pure content creator on YouTube or Twitch and sometimes playing on 4K resolution, then, go buy RTX 3090 Big Foot GPU and live happily ever after.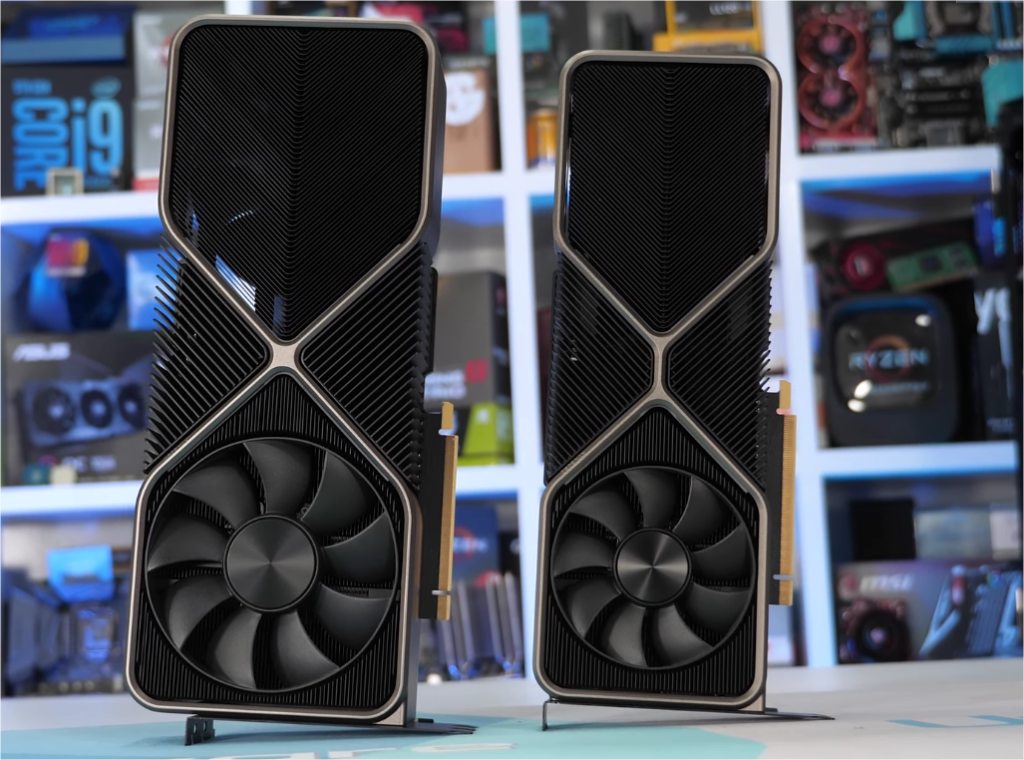 Source: Steve Walton from Hardware Unboxed