AMD Radeon RX 6600 XT Ethereum, Ergo, Ravencoin Mining Hashrate, NiceHash Profits Plus Best Efficiency Settings Revealed
AMD's late expensive mid-range GPU launch did not make any eye-opening effect to gamers, but crypto miners are attempting to save the day. Most awaited Radeon RX 6600 XT came to 1080p gaming party very late after 6 month since Nvidia introduced RTX 3060 card not to miners. Here we got legit RX 6600 XT mining reviews leaked by Dizzy Mining, Son of a Tech and legendary Tech Yes City channel also has released some bombshell.
First fresh mining hashrate glimpse of RX 6600 XT is revealed with Nicehash miner software presented by Tech Yes City channel left miners with skepticism in their minds. Daily profitability barely reaches $2.22 USD but hey, it's still profitable result when you select Dagger Hashimoto algorithm within Niciehash Miner. Only 31.72 MH/s hashrate performance could be squeezed out from Powercolor Red Devil custom RX 6600 XT card at 64W power consumption. Some miners may undervolt the core clock and increase the memory speed to reach stable 24 hours performance with higher hashrate.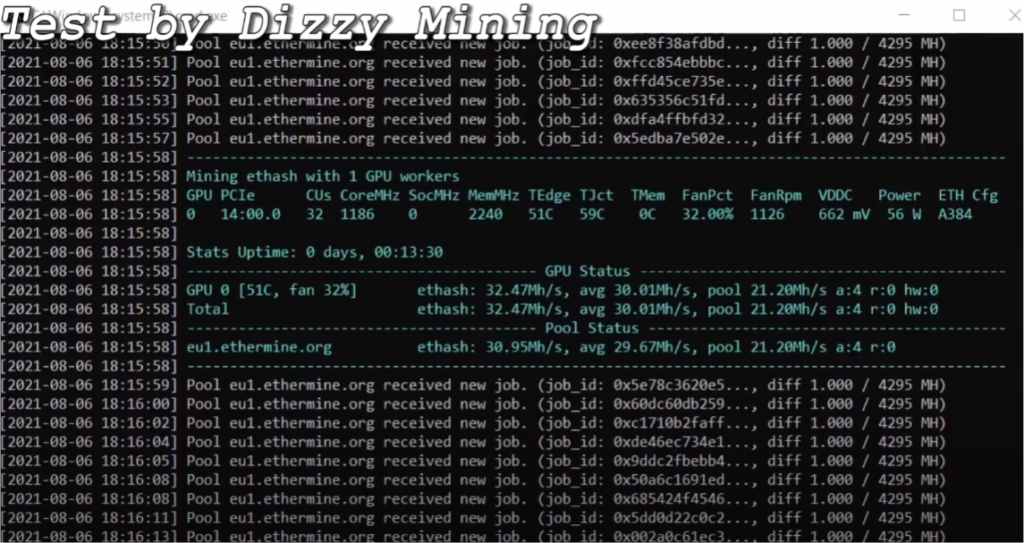 Now, for those who love direct mining the Ethereum crypto then, Dizzy Mining channel method can help to overclock the RX 6600 XT GPU reaching up to 32.47MH/s at 56W power for Ethash mining. Whole system power consumption might hit around 70W depending on what you add onto the rig. Amazingly, stable memory clock successfully found itself at 2252 MHz, core clock at 1200 MHz and core voltage at 762 Mv via Radeon Settings software.
Ravencoin is the only salvation for GPU miners in the nearest future after Ethereum mining demise. Apparently, Ravencoin consumes more power from the wall if you do not properly undervolt the RX 6600 XT. Anyway, Dizzy Mining could establish the accurate 16.66 MH/s RVN hashrate on RX 6600 XT after overclocking the memory frequency up to 2230 MHz. Power consumption from the wall is not mentioned in the video since little time being given to the reviewer to verify the performance. Another popular YT channel named Son of a Tech could get RX 6600 XT earlier than majority miners.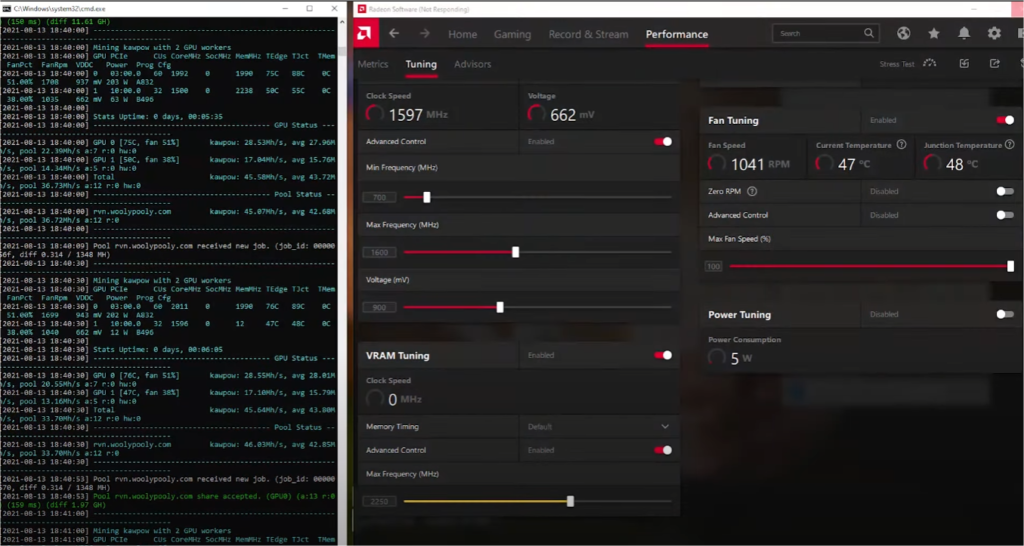 Shockingly, a whopping 17 MH/s hashrate and power consumption of 95.4W from the wall is possibly can be done while mining Ravencoin which makes RX 6600 XT a very efficient GPU compared to RTX 3060 12GB card.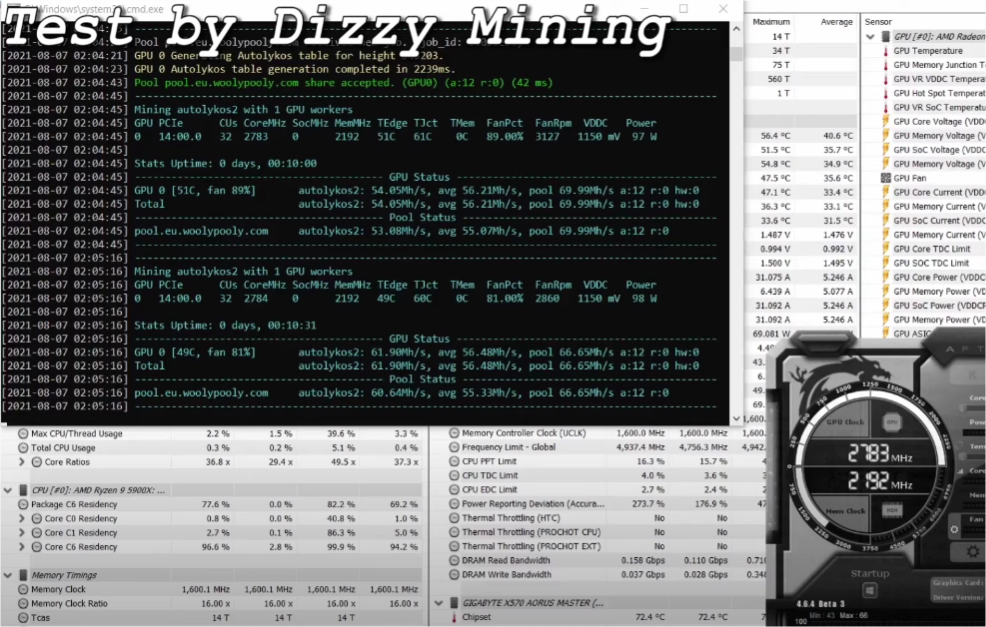 Maximum hashrate for Ergo cryptocurrency using Autolykos algorithm is achievable at 61.90 MH/s performance but with disappointing 97W power consumption compared to more efficient Ethereum mining. Specific custom card used in this video was MSI Radeon Gaming X version of RX 6600 XT respectively.
Source: Dizzy Mining, Son Of A Tech & Tech Yes City