Official AMD Radeon RX 6000 Flagship Card Found In Fortnite Creative Island Matchmaking Map
Most anticipated upcoming AMD Radeon flagship graphics card is clearly seen in Fortnite matchmaking map called Creative Island. Before that, official statement from Radeon twitter account this has been hinted with precise matchmaking room numbers as "8651-9841-1639". You just have to login to your Epic games account and download Fortnite for free and witness this upcoming GPU by your eyes. Hottest competition is expected in high end and mid-range graphics card segment this winter holiday season.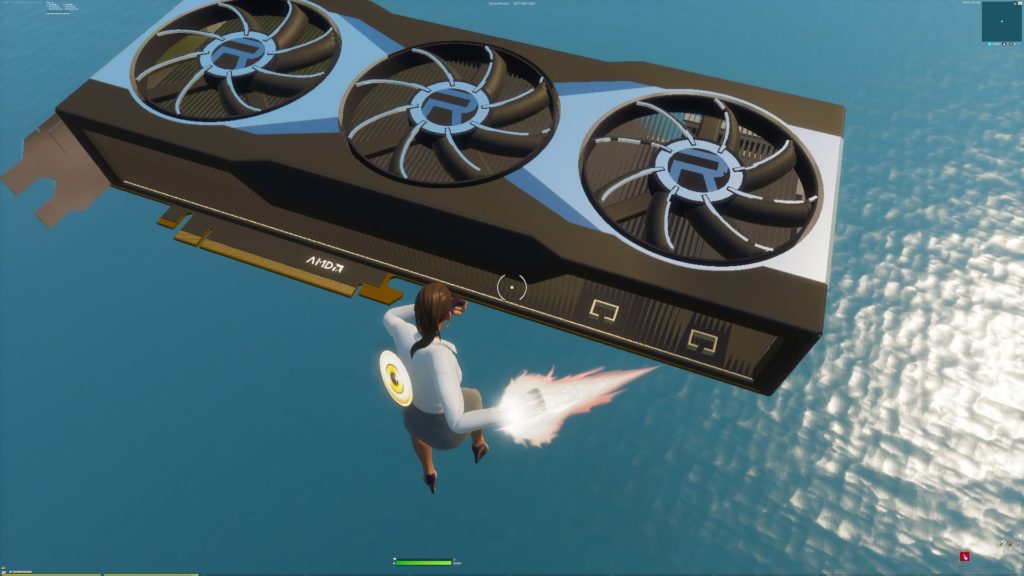 Twitter user NateOrb has revealed his own detailed pictures where he could access by AMD's suggested code numbers into Creative Island. 3D made design of RX 6000 GPU looks huge. Probably, it must be true high end flagship card competing against RTX 3080 or in bettween RTX 3070. Some leaks suggest that RX 6900 XT naming is given to this card. Or AMD could just continue RX 6700 XT legacy name in honor of mid-range HD 6790 legendary flagship of 2011.
As you can see, double 8 pin PCIe power adapter is required for high end RX 6000 GPU. Similar to cheapest RTX 3080 cards like MSI Ventus 3X version. For power supply unit, you may have to get 650W with highest efficiency such as Gold 90+ rating. 3 big cooling fans around the 8 cm diameter size each also can be seen. Blue colored "R" logo is sealed on top of cooling fans to resemble Radeon branding. So the PC case could fit this card which occupies double PCIe slot space.
Gorgeous back plate design with silver color finish looks premium for high end users choice. Connectivity ports for display output seem satisfactory with one HDMI 2.1 and double Display Ports, for latest USB Type-C lovers AMD made special single port for them to enjoy portable monitors.  Overall, RX 6000 flagship's reference design looks great from Fortnite 3D pictures, let's see if it can compete with top tier Nvidia consumer cards like RTX 3080 or mid-range RTX 3070.